Employee Wellness Newsletter
February 2019 Newsletter

Wear Red Day
February 1
Go Red For Women encourages awareness of the issue of women and heart disease, and also action to save more lives. The movement harnesses the energy, passion and power women have to band together and collectively wipe out heart disease. It challenges them to know their risk for heart disease and take action to reduce their personal risk. It also gives them the tools they need to lead a heart-healthy life.
Show us your "Red" on Friday, February 1st and post a picture of yourself on the Employee Wellness Facebook page. Participants will be entered into a raffle for a chance to win an Employee Wellness t-shirt and a Target gift card. You can link to the Employee Wellness Facebook page through our "Contact Us" page on our website.
Ogden Winter Market
Saturdays from January 19th to February 23rd
Farmers Market Ogden is excited to present our second season of Winter Market, offering 6 additional weeks of #supportinglocal in Ogden! Warm up with us inside the beautiful, historic Ogden Union Station Saturdays from January 19th to February 23rd, 9 am to 2 pm.
Featuring specialty artisan wares, food, coffee, baked goods, canned items and preserves, community yoga, live music, pop up activities and performances, holiday decor, and so much more!
Follow us on Facebook, Instagram, and Pinterest!
Employee Wellness will also be doing contests throughout the year so make sure you are following us on social media.
Find us on Facebook and request to join the Employee Wellness group. Participate in our weekly "Tuesdays @ 2" poll and be entered into a drawing for great prizes!
Follow us on our new Instagram page: wsu_employeewellness
Follow us on Pinterest for our latest recipes, crafts, and wellness ideas.
Tag your coworkers and share our social media pages with them to earn prizes throughout the year. We have Target gift cards to give away when we hit our "targets" of 100, 125, 150, and 200+ members. We are so excited for this upcoming year that we want everyone to know all the fun things we have planned. So share with all your co-workers and win!
Challenges
Clear The Air
Monthly Challenge
Clear air is important to us. If you haven't already noticed, air pollution in Utah is becoming an unwelcome reality. Poor air quality means increased illness and other health complications along with environmental problems and diminished quality of life in our communities.
The Clear the Air Challenge is an excellent opportunity to do something to make a positive impact and be a part of the solution. See how many pounds of emissions, gallons of gas and dollars we can save when we work together! This challenge is sponsored by both Employee Wellness and the Energy & Sustainability Office.
Participation in three monthly challenges will earn you $20 through the Wellness Pays Rewards program.
Planetarium Stress Relief
TRAINING TRACKER 800-21
Brought to you by the Physics department and supported by the Employee Wellness Program.
Join us for planetarium shows that are filled with beautiful astronomical imagery, accompanied by soothing music, designed to remove stress from your day and help you relax!
Shows run approximately 50 minutes and are a wonderful break from the usual routine.

TOPS
TRAINING TRACKER 810-06
TOPS is a weight loss support group located here on campus. Weekly meetings consist of a weigh-in, educational information presented by a member of the Employee Wellness Staff, and conversations among the group to encourage others and share ideas, struggles, and accomplishments. We also have fun challenges and activities for the group each meeting! Spring semester meetings will be held at noon on Tuesdays and last 20-30 minutes.
Participants can attend meetings in person, or connect with others through Google MeetUps. Simply email your request to be added to our calendar notifications. This way, those at Davis Campus, Farmington Station, or other campus locations can join whether or not they can make it to the Wellness Center.
Employees and spouses can join at any time throughout the semester.
Health Improvement Classes
TRAINING TRACKER 810-10, 810-11
Cholesterol 101: Was your cholesterol elevated during your last Blood Lipid Screening? This class will provide you with the latest research on lowering your cholesterol numbers through diet, exercise and stress management.
Blood Pressure 101: Elevate blood pressure can lead to a myriad of health conditions if not properly managed. If managed early, many participants may be able to avoid blood pressure reducing medications.
Program Information Classes
TRAINING TRACKER 800-13, 800-12
Employee Wellness 101: This class will walk you through the various programs that make up the WSU Employee Wellness Program. Topics covered include Wellness Pays (Bonus and Rewards), registering for incentives and classes, and the Employee Wellness application on the eWeber Portal.
PEHP Wellness 101: This class will cover how to log into the PEHP website, complete the steps for your rebate, and inform you about the many other programs offered by Healthy Utah and PEHP Wellness
Fitness Related Classes
TRAINING TRACKER 810-07, 810-08, 810-15
Gym Orientations: These one-hour classes will demonstrate how to use the machine weights, free weights and cardio equipment on the north side of the court in the Wildcat Arena. You will also learn how to determine your one rep max and how to use this number to develop a strength training program. Please come dressed to exercise!
Fitness Self Assessment: Learn how to conduct your own fitness assessment! During this one hour class, you will learn the proper way to test a one-mile run, mile and a half walk, push ups, crunches and flexibility. You will also be shown how to complete the required documentation to claim your $20 reward. Please come dressed to exercise!
Medical Self Care
TRAINING TRACKER 810-14
Take this one-hour class and learn how to treat illnesses at home and know when a visit to a healthcare provider is truly necessary—helping you save time and money! This class covers acute illness and chronic conditions, and additional PEHP benefits.
Know Your Benefits
Blomquist Hale
Counseling for All Situations
Blomquist Hale Employee Assistance counselors use a brief, solution-focused therapy model to help you resolve any type of life distressing problems. With face to face counseling, therapists can teach you how to resolve your unique problem while providing caring support along the way. If specialized services are needed, the counselor will refer you to an appropriate resource.
Here are some common reasons to see an EAP counselor: stress, anxiety, grief, parenting issues, substance abuse or addiction, or financial problems- just to name a few. This service is free to all benefits-eligible employees and dependents. There is no limit to your number of sessions and all session are 100% confidential
PEHP Wellness

PEHP Monthly Challenge
Boost Your Resilience
Would you like to be more resilient? Try incorporating some simple resilience-boosting strategies in your life to bounce back more successfully when life throws you a curveball.
PEHP Challenges can be substituted for an Employee Wellness Monthly Health Challenge. You must submit a copy of your tracking sheet to Employee Wellness in order to earn credit and points for the Wellness Store.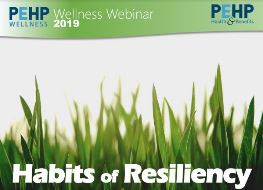 PEHP Quarterly Webinar
Habits of Resiliency
Tap into your sources of strength and become more resilient. Explore how practices of gratitude, mindfulness, and positivity can bring more joy and peace into your life.
Davis Campus Traveling Assessments
June 7, August 1
Complete your blood lipid screening at the Weber State Davis campus to qualify for the Wellness Pays Bonus Program and the PEHP Healthy Utah Rebate Program. Employees and spouses can register for testing once they complete the Health Risk Assessment. Click the link below for instructions to initiate this first step.
Employee Wellness will be at the Davis Campus the first Wednesday of every month to conduct blood lipid screenings.
Suspend Body and Mind
February 11 - April 1
Taught by master instructor Jan Howell, this class will immerse participants inside Yasuaki Onishi's breathtaking art installation, "Reverse of Volume". The artist's suspended sculptural installation will transform the gallery into a contemplative space that inspires visitors to observe how the simplest qualities of light, shape, and line change from different perspectives.
These events will occur on Monday evenings (except for February 18th) from 5-6 pm. Yoga is free and open to the public.
Please contact Lydia Gravis at lydiagravis@weber.edu or ext 6420 for more information.